Recipes
Visit our Member Products page to find out where you can get fresh Maine farmed seafood!

Pan-seared Atlantic Salmon with Mango Avocado Salsa (serves 2)
Raw Oysters with Maine Blueberry Mignonette (serves 6)
Thai Curry Mussels (serves 2)
Steamed Mussels- European Style
Serves up to 4
4lbs of Hollander & de Köning mussels.
1 stick of celery, chopped
2 onions peeled and diced
1 large carrot, peeled and sliced
1 large leek, washed and sliced
½ red pepper, diced
½ green pepper diced
1 clove garlic, crushed
¾ pint of white wine.
1 Bay leaf
fresh coriander leaves
1 tsp olive oil
Salt and freshly milled black pepper
Directions for Mussel Preparation:
Wash the mussels under running water and scrub the mussels with a stiff brush. Discard any open mussels that do not close within 30 seconds if you tap them.
Note: Do not chop the vegetable too finely as their color, texture and flavor are part of the enjoyment of this dish.
Put a teaspoon of olive oil, the chopped vegetables, herbs and garlic in a large pan with a close fitting lid and stir-fry them for a minute or two only. Add the wine, ½ tsp salt and plenty of freshly milled black pepper. Place the pan on a very high heat. As soon as the liquid is boiling, add the mussels and put the lid on the pan, ensuring a good tight fit. Steam the mussels for just long enough so that all the mussels are open, but no longer than that, or the mussels will be less tender. Serve immediately in a warmed serving dish. The crusty bread is delicious if dipped in the broth in the pan.
This Recipe is courtesy of Acadia Aquafarms.
---
Grilled Salmon in Tequila-Lime Marinade
4 Atlantic salmon steaks or fillets
(6-8 oz each)
3 oz tequila
2 tbsp lime juice
½ tsp lime zest
2 tbsp chopped cilantro
3 tbsp olive oil
1 tbsp fresh ground pepper
½ tsp salt
Directions:
Combine marinade ingredients and marinate, covered in refrigerator for 2 hours. Broil on clean, well oiled barbecue grid over medium heat, about 5-6 minutes each side.
This recipe is courtesy of the Maine Department of Marine Resources. For a printable version of this recipe click here.
Fiery Oysters on the Half Shell
Serves: Six to Twelve (6 – 12)
4 Dozen Oysters
2 Tbsp Butter
1/4 C Louisiana Hot Sauce
1/2 tsp Garlic Salt
1/4 C Scallions Minced
1/2 C Red Bordeaux Wine
2 Tbsp Fresh Lemon Juice
1/2 tsp Paprika
1 tsp White Pepper
1 Tbsp Fresh Parsley (minced)
Directions:
Thoroughly scrub oyster clean of dirt. Shuck the oysters over a small mixing bowl to catch the juices. Discard top shell and gently free the oyster from the bottom shell but leave it in the shell. Place on a platter and refrigerate for one hour. In the small mixing bowl, combine with the oyster juices, Louisiana hot sauce, red Bordeaux wine, scallions, lemon juice, butter, white pepper, and garlic salt. Microwave for one minute then stir and microwave for an additional minute. Refrigerate for one hour. Remove from refrigerator and stir.
Gently spoon a very small amount of sauce onto each oyster. Sprinkle lightly with fresh minced parsley and paprika. Place on an ice covered platter and serve.
This recipe was courtesy of the Maine Aquaculture Innovation Center. Get more recipes and the Celebrating Aquaculture Cookbook from MAIC. For a printable version of this recipe click here
Martha Stewart talks about Maine Salmon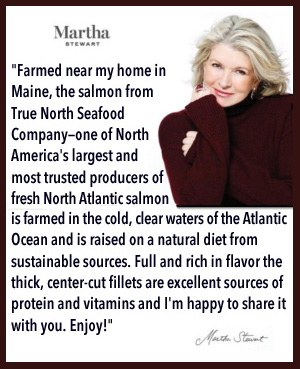 See video of Martha Stewart on QVC with True North Salmon
Links to additional seafood-related information.
Food Allergy Research & Education