Get paid while you develop skills in aquaculture in Maine!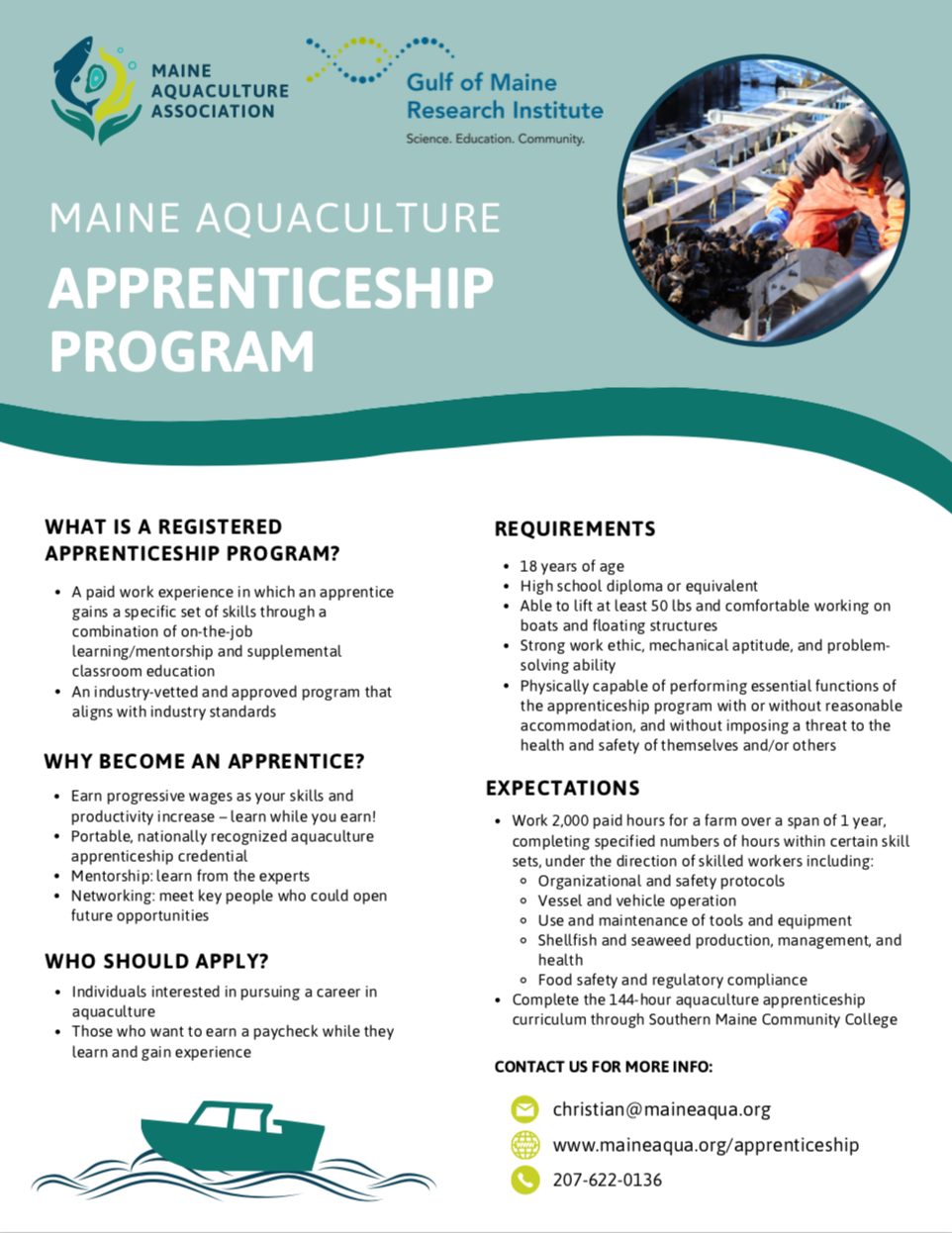 The Maine Shellfish and Seaweed Aquaculture Apprenticeship program is seeking applicants for its launch in spring 2023. Apprenticeship positions are available at six (6) different farms across the midcoast and southern Maine. This is a hands-on, farm-based position and applicants should be comfortable working on a boat/floating barge in a variety of weather conditions. This full-time, paid position will report to the farm manager or crew chief on location. All apprentices will also have support from and be connected through leaders at the Maine Aquaculture Association and Gulf of Maine Research Institute. 
Successful candidates do not need prior aquaculture or farm experience. However, prior experience can certainly be a positive factor. A strong desire to learn and ability to work as a part of a team are critical to success in this position. Apprentices will learn on the job over the course of one year in a specially designed training program along with supplemental classroom learning at Southern Maine Community College. Apprentices will work closely with farm managers and will have seasonal and weekly tasks.  Apprentices will work in essential core functions of shellfish and potentially seaweed production and perform duties including:
– Build, install, and repair equipment under supervision from a crew chief or manager
– Install, maintain, and occasionally repair lines, moorings/anchors, floats, rafts, and growing and processing equipment under direction or crew chief or manager
– Monitor general shellfish and/or seaweed health, growth, and inventory and notify crew chief/manager if any concerns arise
– Harvest, sort, count, wash, and bag shellfish, following relevant health and safety requirements
– Rigging seaweed grow lines, seed lines, and in season husbandry
– Use power tools (e.g. drill, Sawzall, circular saw), generators, pneumatic tools, water pumps, pressure washer, and marine batteries
– Keep sites clean and orderly
Learning outcomes in this role will include vessel and vehicle operation, shellfish and potentially seaweed culture, food and regulatory compliance. This is a full-time, paid position. Apprentices will, under the guidance of an experienced business owner and/or employee, complete a 2,000-hour paid apprenticeship program. The apprenticeship also includes 144 hours of coursework at Southern Maine Community College. Hours vary by location, season and tide. Weekend and early morning hours are required to support regular farm operations.
Job requirements:
– 18 years of age
– Comfort working on the water in variable weather (rain or shine)
– Strong work ethic and initiative
– Ability to lift up to 50 pounds
– Ability to get on and off a boat without assistance
– Ability to work around loud noises
– Strong verbal communication and listening skills
– Ability to take direction from others
– Ability to professionally engage with others on the water and riparian landowners
– Ability to travel locally, primarily in the southern and mid-coast Maine
– Safely work on the water and at shoreside facilities consistent with relevant health and safety requirements
– Basic math and writing skills e.g. length of lines, pieces per container, pounds per line, etc
Application Process
We are no longer accepting applications for the 2023 round of apprenticeships. Please check back again next year!
Questions?
Contact Christian Brayden: [email protected]
Acknowledgements
This program is administered by the Maine Aquaculture Association and the Gulf of Maine Research Institute with support from USDA NIFA and the Maine Department of Labor in collaboration with Educate Maine.