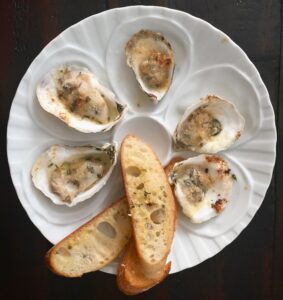 Ingredients:
• 1 dozen raw Maine oysters, shucked
• 1/2 stick unsalted butter
• 3 garlic gloves, minced
• 1 tsp dried parsley
• Handful of breadcrumbs
• 1 small baguette, cut on an angle and toasted (optional: add extra garlic butter to toasted bread for extra flavor)
Instructions (see instructional video here):
1) Set the oven to broil with a rack on the top level.
2) In a small sauce pan over medium heat, melt butter and add minced garlic.
3) Swirl garlic around in pan until butter is completely melted and garlic is fragrant, but not brown (2-3 min). Add parsley and turn the heat down to med-low.
4) Place shucked oysters meat-side up in a small baking pan (8×8 or 9×9) with 2-inch sides (not a flat baking sheet).
5) Spoon the garlic butter over the oysters (it's okay if some of it overflows into the pan).
6) Lightly sprinkle a handful of breadcrumbs over the oysters (optional: add more parsley to the top for garnish).
7) Gently place the pan of oysters on the top rack of the oven. Broil for 2-3 minutes, checking often to make sure the breadcrumbs don't burn.
8) Remove the oysters from the oven and serve immediately with toasted baguette.

Where to Buy:
Oysters featured in this recipe are from Love Point Oyster Company. You can purchase them directly from the farm, or through Maine Oyster Company.